New Arrival GSM products provides you with more options
GSM Audio intercom products series, Press the button ,audio talking, remote gate or door lock release


Multi Channel relay output remote controller / GSM,3G and 4G controller



(RTU5015 is our basic line gsm controller,you maybe have more interested in our all GSM controllers,If you have any new idea,we can provide the customized design to realize your ideas even without any design cost.
New Technologies
RTU5015 GSM abridor de puerta de Control remoto del interruptor de Telefono de llamada
Este abridor de puerta GSM se puede utilizar para el acceso autorizado de la puerta, control de puertas, control de equipos a distancia, sistemas de aparcamiento o de otros lugares que requieren la activacion desactivacion de su sistema, maquinas o equipos de forma remota.Controlado por una llamada LIBRE de su telefono movil, es una gran herramienta para proteger sus activos.
RTU5015 GSM Gate Opener Remote Control Switch Phone Call
The GSM Gate Opener can be used for authorized door access, controlling gates, remote control equipment, parking systems or other places that require to mute your system, machines or equipment so I remota.Controlado for a FREE call from your mobile phone, it is a great tool to protect your assets.
All RTU5025 orders from May.20, 2016 NEW Version will start to support IOS App:
Customized SMS command to ON ,OFF, or temporary On or Off the relay output !
Intelligent search function of storage number !
Support Email function to export all the numbers files ,log files to your email address !
Support IOS app with more features !
All RTU5015 orders from Nov.1st, 2015 NEW Version will start to support the new functions:
Customized SMS command to ON ,OFF, or temporary On or Off the relay output !
Intelligent search function of storage number !


New version 2015 was supported by Android and New version 2016 was supply by both IOS and android APP and more features supported better ! We keep to upgrate our device more and more better.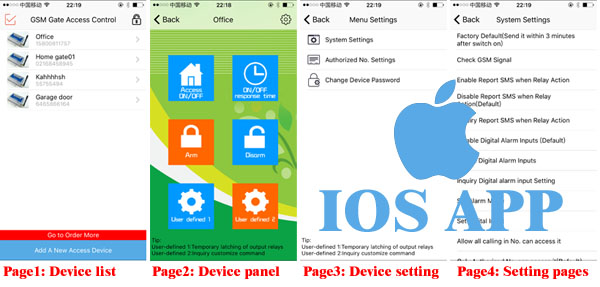 RTU5015 GSM Ouvre-porte est un système de contrôle d'accès à distance GSM qui peut activer des serrures électroniques à partir de votre téléphone mobile et l'appel est chargé gratuitement.
L'appareil reconnaît identité de l'appelant et déposer l'appel active alors le relais à bord pour ouvrir les portes ou portails. Les numéros de téléphone des utilisateurs de sont programmés dans le dispositif par SMS ou appel. Avec ce système, vous pouvez autoriser jusqu'à 999 téléphones mobiles à ouvrir la porte sans frais.
RTU5015 GSM con dispositivo di apertura è un sistema di controllo di GSM di accesso remoto che può attivare serrature elettroniche dal telefono cellulare e la chiamata è carica libera.
Il dispositivo riconosce ID chiamante in entrata e rilasciare la chiamata poi attiva il relè a bordo per aprire le porte o cancelli. I numeri di telefono degli utenti vengono programmati nel dispositivo tramite SMS o chiamata. Con questo sistema è possibile autorizzare fino a 999 i telefoni cellulari per aprire il cancello, senza costi.
RTU5015 GSM porteiro eletrônico é um sistema de controle de acesso remoto GSM que pode ativar fechaduras eletrônicas a partir do telemóvel ea chamada é carga livre.
O dispositivo reconhece entrada identificador de chamadas e desligar a chamada, em seguida, ativa o relé on-board para abrir as portas ou portões. Números de telefone dos usuários são programados no dispositivo por SMS ou por chamada. Com este sistema você pode autorizar até 999 telefones móveis para abrir o portão sem custo.
The GSM SMS Controller with alarm input S130 S140 S150 can be used in places which require turning ON/OFF your system, machines, equipments remotely with a SMS text from your mobile phone.
Moreover, the GSM SMS Controller-Alarm with maximum 6 digital inputs, when any one of the inputs triggered, will start the siren or switch on the light automatically. in the meanwhile, the GSM SMS Controller will send SMS Alert the to owners immediately. This is very useful if you need protect your assets with low cost solution.
El controlador GSM SMS con entrada de alarma S130 S140 S150 se puede utilizar en lugares que requieren encender / apagar el sistema, máquinas, equipos remotamente con un texto de SMS desde su teléfono móvil.
Por otra parte, el SMS GSM Regulador-Alarma con un máximo de 6 entradas digitales, cuando cualquiera de las entradas accionadas, encenderá la sirena o encender la luz automáticamente. mientras tanto, el controlador GSM SMS enviará SMS de alerta a los propietarios de la inmediatamente. Esto es muy útil si necesita proteger sus activos con una solución de bajo costo.
Le GSM SMS contrôleur avec entrée d'alarme S130 S140 S150 peut être utilisé dans des endroits qui nécessitent allumer / éteindre votre système, les machines, les équipements à distance avec un texte de SMS à partir de votre téléphone mobile.
En outre, le GSM SMS contrôleur-alarme avec un maximum de 6 entrées numériques, lorsque l'un quelconque des entrées déclenchée, va commencer la sirène ou allumer la lumière automatiquement. en attendant, le SMS contrôleur GSM va envoyer des SMS d'alerte à l'propriétaires immédiatement. Ceci est très utile si vous avez besoin de protéger vos actifs avec une solution à faible coût.
Il regolatore di GSM SMS con ingresso di allarme S130 S140 S150 può essere utilizzato nei posti che richiedono Accendere / spegnere il sistema, le macchine, attrezzature da remoto con un testo di SMS dal vostro telefono cellulare.
Inoltre, il GSM SMS Controller-allarme con 6 ingressi digitali massimo, quando uno degli ingressi innescato, avrà inizio la sirena o accendere la luce automaticamente. nel frattempo, il regolatore di GSM SMS trasmetterà SMS Alert i proprietari di immediatamente. Questo è molto utile se avete bisogno di proteggere i vostri beni con la soluzione di basso costo.
Die GSM SMS-Controller mit Alarmeingang S130 S140 S150 kann an Orten, die AN / AUS Ihr System, Maschinen verwendet werden, Ausrüstungen aus der Ferne mit einem SMS Text von Ihrem Handy.
Darüber hinaus ist die GSM SMS Steuerpult-Warnung mit maximum 6 Digitaleingänge, wenn eines der Eingänge ausgelöst wird, wird die Sirene starten oder schalten Sie das Licht automatisch. in der Zwischenzeit, die GSM SMS-Controller wird die SMS-Alarm an die Eigentümer sofort zu senden. Dies ist sehr nützlich, wenn Sie Ihr Vermögen zu schützen mit kostengünstige Lösung.
GSM SMS בקר עם קלט אזעקת S130 S140 S150 ניתן להשתמש במקומות שדורשים הפעלה / כיבוי המערכת שלך, מכונות, ציוד מרחוק עם טקסט SMS מהטלפון הנייד שלך.
יתר על כן, בקר-מעורר SMS GSM עם 6 כניסות דיגיטליות מרביים, כאשר כל אחת מהתשומות מופעלת, יתחיל הצפירה או להדליק את האור באופן אוטומטי. בינתיים, GSM SMS בקר ישלח SMS התראה לבעלים באופן מיידי. זה מאוד שימושי אם אתה צריך להגן על הנכסים שלך עם פתרון בעלות נמוך.
Регулятор GSM SMS с тревожного входа S130 S140 S150 может использоваться в местах, которые требуют Включение / выключение системы, машины, оборудование удаленно с помощью SMS текста с вашего мобильного телефона.
Кроме того, регулятор GSM SMS-сигнализация с максимум 6 цифровых входов, когда любой из входов срабатывает, начнет сирену или переключатель на свете. в это время, то регулятор GSM SMS пошлет сигнал тревога SMS к предпринимателям немедленно. Это очень полезно, если вам нужно защитить свои активы с разрешением низкой стоимости.